Welcome to Wakefield
Penderels Trust
Unit 2 Normanton Business Park
Ripley Drive
Normanton
Wakefield
WF6 1QT
Tel: 01924 898136
Fax: 01924 895018
Email: wakefield@penderelstrust.org.uk
---
| | |
| --- | --- |
| Your Service Manager is: | Louise Smith |
| Your Independent Living Advisers are: | Beverley Jennings |
| | Faye Parton |
| | Alison Narine |
| Your Finance Officer (Managed Accounts) is: | Gill Wake-Corrigan |
| Your Clerical Officer is: | Wendy Iveson |

Services in Wakefield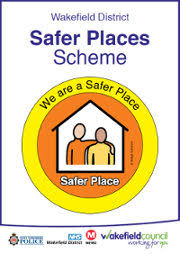 Penderels Trust is working in partnership with Wakefield Council to support adults and children who receive a direct payment in the area to get the most out of their care money and to achieve their goals. Our support includes:
Support when recruiting a personal assistant
Guidance on all aspects of becoming a good employer including legal obligations and responsibilities
Support with choosing and using a care agency
Help with money management and keeping accurate records
Payroll services
We also offer a managed account service which is available at very competitive rates.
Please contact our team at the Wakefield office for more information.
If you wish to access our Events Calendar, please click here.
The Herbert Protocol (Safe and Found)
The Herbert Protocol is a national scheme being introduced by West Yorkshire Police and other agencies which encourages carers to compile useful information which could be used in the event of a vulnerable person going missing. For people living with someone with dementia, this could be quite common and The Herbert Protocal should give them some peace of mind.
The Herbert Protocol will put systems in place to allow for early intervention when vulnerable people go missing. The idea is to complete a form recording all vital details such as medication required, mobile numbers, places previously located, photograph etc. In the event that your family member or friend goes missing, the form can easily be sent or handed to police to reduce the time in gathering information.
The Herbert Protocol is named after George Herbert, a war veteran who lived with dementia.
For more information and to download the form, please go to www.westyorkshire.police.uk/dementia
Side by Side from Alzheimer's Society
If you've been diagnosed with dementia, Side by Side is a new, free service from Alzheimer's Society that will help you do the things you love - or try something new. With the support of a local volunteer you can continue doing the things you enjoy or take part in a new hobby or activity - it's completely up to you.
Contact your local Side by Side Manager on 01924 373 264 to find out more about how they can help.
Being a Side by Side volunteer is a flexible way to volunteer your time and helps people with dementia to keep doing the things we take for granted. Email wakefield@alzheimers.org.uk for more information or call 01924 373 264.
www.alzheimers.org.uk/sidebyside
Useful Links
Please find below links to other websites that you may find useful.
Wakefield Council Social Care Direct - www.wakefield.gov.uk/HealthandSocialCare/SocialCareDirect/default.htm (0345 8 503 503)
Personalisation and Assessment Team - selfdirectedsupport@wakefield.gov.uk (01924 307290)
WMDC Payroll Support - www.wakefield.gov.uk (01924 307241)
HMRC Helpline - www.hmrc.gov.uk (0845 0108500)
Jobcentre Plus - www.gov.uk/contact-jobcentre-plus (0845 6060234)
Department for Work and Pensions - www.dwp.gov.uk (0845 8500293)
DIAL - www.wakefield.gov.uk (01977 723933/4)
Citizens Advice Bureau - www.wakefielddistrictcab.co.uk (0844 499 4138)
Age UK - www.ageuk.org.uk (0800 169 6565)
ACAS - www.acas.org.uk (08457 474747)
Health Watch - www.healthwatchwakefield.co.uk (01924 234007)
Kidz Aware - www.kidzaware.co.uk (01924 376882)
The Silver Line (helpline for older people) - www.thesilverline.org.uk Tel: 0800 4 70 80 90
Wakefield and District Carers Association - www.carerswakefield.org.uk