Welcome to Salford & Greater Manchester
Penderels Trust
Room 213
Salford Innovation Forum
Frederick Road
Salford
M6 6FP
Tel: 0161 743 3592
Fax: 0161 743 3591
Email: salford@penderelstrust.org.uk
---
| | |
| --- | --- |
| Your Service Manager is: | Sam Cook |
| Your Independent Living Advisers are: | Amy Jeffery |
| | Hayley Berry |
| Your Finance Officer (Managed Accounts) is: | Ricky Jordan |
| Your Clerical Officer is: | Daisy Leather |
---






Welcome to Penderels Trust Salford & Greater Manchester
Please find below some general information on the services we offer. We offer our PA Finder across Greater Manchester. You can also access our PA Finder service from this page. Please click on the appropriate link which will take you to the information you need. Please contact us at the office if you need any further help or information.
If you are in Salford, we offer a full direct payment support service. For more information on our general services, please click here. If you are in other areas of Greater Manchester, please contact your local authority for further information on direct payment support and other services.
To access our Events Calendar in Salford, please click here.
For more information on how to find a personal assistant in Greater Manchester on PA Finder, please click here.
To apply to be included as a personal assistant on PA Finder, please click here.
To access our payroll document centre, please click here and scroll down to 'Document Centre'.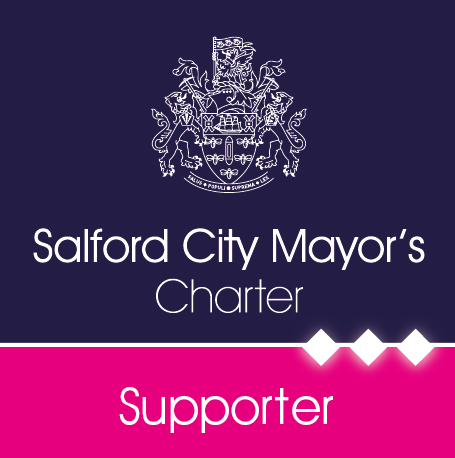 If you receive a direct payment for social care or a personal health budget for your healthcare needs and wellbeing, Penderels Trust is able to support you. We work in partnership with both Salford City Council and Salford Clinical Commissioning Group (CCG) to support adults and children who receive a direct payment in the area to help them get the most out of the care money they receive. Our support includes:
Support when recruiting a personal assistant
Guidance on all aspects of being a good employer including legal obligations and responsibilities
Support with choosing and using a care agency
Help with money management and keeping accurate records
Payroll services
Support planning
Please contact our team at Salford for more information.
The Salford Dementia Champions Group
Do you have early to moderate dementia or look after someone who has and live in Salford? As a member of the Salford Dementia Champions Group you will meet new people, find out what is going on, share experiences and be instrumental in influencing the development of dementia friendly communities in Salford. If you would like to know more, please contact Caroline Allport on 0161 212 4953 or email caroline.allport@nhs.net.
Workshops for Family Carers of People Living with Dementia (EmPoWereD)
'EmPoWereD Conversations' is a new and innovative approach to communication skills training that is designed to help family carers listen, learn and connect with people who are living with dementia. It has been developed by Six Degrees Social Enterprise and the Institute of Dementia at the University of Salford. The approach explores how carers and their relative with dementia can:
Find practical ways to connect and stay connected.
Handle the emotional stress they may feel at times.
Deal with the things they need to do to navigate the day together.
They are running three workshops in the series, each lasting two hours. For more information, please call 0161 212 4981 and ask for Dr Phil McEvoy or email phil.mcevoy@nhs.net.

Penderels Trust Salford is recognised as a dementia friendly organisation

Salford & Manchester is a community that has been recognised by the Dementia Action Alliance as a community that is 'working to become dementia friendly'. Within the community, Penderels Trust has also been recognised as an organisation that supports this initiative and has submitted an action plan to demonstrate what we will do. For more information on what the Dementia Action Alliance do, please go to www.dementiaaction.org.uk. For more information about how Penderels Trust can support you, please speak to Sam Cook, who is a 'dementia champion', on the contact details above. The Salford Dementia Action Alliance was formerly launched in November 2013. The launch was filmed by students at Salford University and can be viewed at http://www.youtube.com/watch?v=TfmoB7GyDaM.
---
If you are looking to employ someone to meet your care and support needs, we know it can be a daunting and sometimes expensive task. Finding the right personal assistant is important and it can be difficult to know where to begin to find that right person.
Greater Manchester PA Finder has been developed jointly by Salford City Council and Penderels Trust. Using PA Finder is free to use whether you are receiving community care funding or paying for your own care. You can access PA Finder 24 hours a day, 7 days a week.
Getting Started
We recommend you read the information below before you start using PA Finder. To start your search for a PA, please click here.
Using PA Finder
You will be able to access a list of personal assistants looking for work in your area and use the search criteria to find the right personal assistant for you. You will still be able to choose the person you employ and they will work for you, not Salford City Council or Penderels Trust. You will still need to interview them to make sure they are right for you and you will have to meet all your legal obligations as an employer. Help is available to support you with this (please contact your Independent Living Adviser at the office details listed at the top of this page).
The link to access PA Finder is below, but please read the following information carefully before you use PA Finder.
Your Responsibilities
Information provided on PA Finder is accurate to the best of our knowledge. However, this information must not be taken in any way as a warranty by Salford City Council or Penderels Trust about the status of any personal assistant on the Register. Neither Salford City Council nor Penderels Trust will accept any liability whatsoever arising out of the use of information obtained through PA Finder, or any liability arising from employing a PA on the Register.
The selection, recruitment and employment responsibilities of using a PA from PA Finder sit entirely with the employer, including undertaking a Disclosure and Barring Service (DBS) check (this was formerly CRB), references and checking eligibility to work. Penderels Trust can help you with this. Please contact them at the Salford office (contact details can be found at the top of this page).
Once you have employed someone, it is important that you issue your employee with a contract of employment and a job description within eight weeks. If you have a direct payment and are supported by Penderels Trust, we can help you with this. Please contact the team at the Salford office.
Safeguarding
A PA may be removed from PA Finder if they provide false or misleading information, we receive negative feedback from an employer, or if a safeguarding allegation is upheld. If you are concerned about someone's continued inclusion on PA Finder, please email us at pafinder@penderelstrust.org.uk or call Penderels Trust on Local Rate 01226 736602.
Getting Started
Please note that this is a new service and we are still working hard to populate PA Finder with PAs. If you are unsuccessful in your search this time, please do return at a later date and try again as we are adding new PAs all the time.
For further information about PA Finder and help with searching, email us at pafinder@penderelstrust.org.uk or call Penderels Trust on 01226 736602.
Are you a personal assistant or interested in a career in care in Greater Manchester and looking for work?
Greater Manchester PA Finder has been developed jointly by Salford City Council and Penderels Trust. Join the Greater Manchester Personal Assistant PA Finder and make finding the right job much easier. It is free to join PA Finder and you can say where and when you would like to work. Potential employers will be able to search PA Finder and see your profile at any time. PA Finder will be actively promoted throughout Greater Manchester.
Applying to be on PA Finder is easy, simply email us at pafinder@penderelstrust.org.uk or call Penderels Trust on Local Rate 01226 736602 and we will send you an application pack. Or you can click here to apply online.
To give you an idea of what you can expect when working as a PA in Greater Manchester, please read our 'Personal Assistant Handbook' (click here to view). As a PA working in Greater Manchester, we would expect you to work to the Code of Conduct (click here to view).
Useful Links in Salford
Please find below links to the websites of other organisations you may find useful:


Carers' Association in Salford - www.salfordcarerscentre.co.uk

Citizens Advice Bureau in Salford - www.salfordcab.org.uk

Advocacy Service in Salford - www.mindinsalford.org.uk

Salford Disability Forum - www.salforddisabilityforum.com

Henshaws - www.henshaws.org.uk

Age UK - www.ageuk.org.uk/salford

Salford Community and Voluntary Services - www.salfordcvs.co.uk

Garden Needs - www.gardenneeds.org.uk/ability-programme-adults-learning-disabilities/





Greater Manchester Centre for Voluntary Organisations (GMCVO) - https://www.gmcvo.org.uk

Healthwatch Salford: www.healthwatchsalford.co.uk

Salford City Council Adult Care and Health - www.salford.gov.uk/health

The Silver Line (helpline for older people) - www.thesilverline.org.uk Tel: 0800 4 70 80 90

Salford Guide to Health and Wellbeing - www.way2wellbeing.org.uk/

Accessibility at Manchester Airport - www.manchester-airport-guide.co.uk/disabled-facilities.html